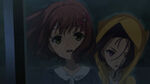 Information missing, like we thought!
---
This article is a stub and is missing information.
You can help Mayoiga Wikia by expanding it.
Yottsun's Drowning
Episode Information
Kanji
よっつんの川流れ
Rōmanji
Yottsun no Kawanagare
Air date
April 22, 2016
Opening
Gensou Drive
Ending
Ketsuro
Episode Guide
Previous
← Episode 3
Next
Episode 5 →
Yottsun's Drowning is the fourth epiosde of the Mayoiga anime. It aired April 22, 2016
Synopsis
The tour is now divided into two camps: those who wish to stay and those who wish to leave. As the former decide their course of action to secure their safety, the latter heads back down the mountain. Will they manage to leave?
Plot
TBA