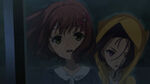 Information missing, like we thought!
---
This article is a stub and is missing information.
You can help Mayoiga Wikia by expanding it.
Three Yuunas Is a Crowd
Episode Information
Kanji
ユウナ3人いると紛らわしい
Rōmanji
Yuuna 3 Nin Iru to Magirawashii
Air date
April 29, 2016
Opening
Gensou Drive
Ending
Ketsuro
Episode Guide
Previous
← Episode 4
Next
Episode 6 →
Three Yuunas Is a Crowd is the fifth episode of the Mayoiga anime. It aired April 29, 2016.
Synopsis
Their escape plans thwarted, Mikage's group returns to the village to report their findings, only to find that Jack has broken free. As accusations fly, their unease only grows... 
Plot
TBA