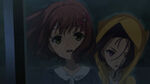 Information missing, like we thought!
---
This article is a stub and is missing information.
You can help Mayoiga Wikia by expanding it.
The Monk's Immorality
Episode Information
Kanji
坊主の不道徳
Rōmanji
Bouzu no Fudoutoku
Air date
May 6, 2016
Opening
Gensou Drive
Ending
Ketsuro
Episode Guide
Previous
← Episode 5
Next
Episode 7 →
The Monk's Immorality is the sixth episode of the Mayoiga anime. It aired May 6, 2016
Synopsis
While the two groups reunite in the village, the mounting suspicion of each other strains the group dynamic. As the group struggles to find some semblance of cohesion, more members begin seeing apparitions...
Plot
TBA