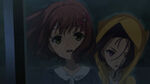 Information missing, like we thought!
---
This article is a stub and is missing information.
You can help Mayoiga Wikia by expanding it.
Visit Nanaki Before Doubting Masaki
Episode Information
Kanji
納鳴訪ねて真咲を疑う
Rōmanji
Nanaki Tazunete Masaki wo Utagau
Air date
May 20, 2016
Opening
Gensou Drive
Ending
Ketsuro
Episode Guide
Previous
← Episode 7
Next
Episode 9 →
Visit Nanaki Before Doubting Masaki is the eight episode of the Mayoiga anime. It aired May 20th, 2016
Synopsis
Captured by the group, Masaki reluctantly begins telling her story and what her connection is to the Village. But not everyone trusts her words...
Plot
TBA