Welcome to the Mayoiga Wikia
The "Mayoiga (The Lost Village)" Wiki is a community-run fanbase about the anime-original series. Mayoiga follows a group of 30 young men and women go on a bus tour to Nanakimura, a shadowy village with an urban legend of being a utopia."
The Wiki currently has 83 articles since our launch and 1,046 total contributions since April 2016.
Warning: This wiki is containing spoilers! Read at your own risk.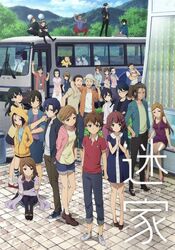 Synopsis
30 young men and women who came together on a shady bus tour. The tour's destination: an illusive, possibly nonexistent village called Nanakimura. In Nanakimura, one can lead a utopian existence, free of the world's obstacles … or so it was rumored, like an urban legend. "In despair over the real world ... wanting to escape the tedious daily life … wanting to restart your life from scratch…"
The bus headed deep into the mountains, carrying 30 people each harboring their own expectations and wounds in their hearts…
And so, the place these 30 arrived at, was an uninhabited village with the lingering faint scents of life, even though it was falling apart.
What is the truth of Nanakimura facing the 30?
Mayoiga Wiki Polls
How are you liking Mayoiga (The Lost Village) so far?